Tom from Cornwall

wrote:

↑

29 Nov 2019 23:33

Could you post up an example page? I've got a couple of handwritten letters from him somewhere on a laptop.
Here is a sample page.
I've taken the liberty of posting the one covering the visit of Wavell and Beresford-Peirce.
Additionally, here are excerpts from the 4th Indian and 7th Armoured Division after-battle reports concerning the visit/withdrawal.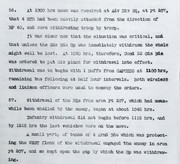 Contemporary documentation indicates 7th Armoured knew that 4th Indian were already on the move before Wavell and Beresford-Peirce arrived. If Roberts' recollection of the meeting is accurate, and that withdrawal of the 7th Armoured Division was not discussed/authorized, that's a serious indictment of all attendees.
Ref your PM. I am collating the documents I have to send to Urmel. You'll get access too.