historygeek2021

wrote:

↑

14 Apr 2022 00:13

T. A. Gardner

wrote:

↑

13 Apr 2022 19:56

historygeek2021

wrote:

↑

13 Apr 2022 19:35

I mean, what they really needed was 5,000 trains designed specifically to be able to operate on the Soviet rail system, that way they wouldn't have to simultaneously rebuild the country's rail system as they were invading it. But they would hand required rational leadership and thorough advance planning, both extinct species in Hitler's Reich.

Regauging the track was a relatively easy process--if that's all you have to do. What the Germans ran into was the overall pathetic level of quality put into the Russian rail system. This meant that their railway engineers found themselves replacing ties, adding coal and watering stations, having to lay ballast, add communications systems, etc., that was beyond what they expected to have to do. As it was, many Russian rail lines were so bad that running just a few trains a day down them would result in their failure to a point as to be unusable.

With better planning, the Germans could have already known this to be the case and had stockpiled the necessary materials to do the repairs and upgrades. Toss in that the railway troops get somewhat more mechanization than they had--say like specially fitted trains with equipment to assist in laying track, etc., and they could do more.

Another example would be to have prefabricated buildings that can be shipped on a flat car to a location to build engine sheds, offices, barracks, etc., for the personnel and equipment that the rail system would be using. These could have been made entirely from "non-strategic" materials and quickly erected to provide the necessary buildings. The British and Americans did this, so it's entirely possible the Germans could do it. This, in turn, means that when the weather turns bad in Russia the railway system continues to operate with a good degree of efficiency.

Yes, I've read DerAlteFritz's thread on German Railways East. There was a lot more work to do than just regauge the tracks. Most German locomotives were too heavy for the poorly embedded Soviet rail lines, and weren't built to travel long distances between water stations, etc. Since speed was of the essence if the Germans were to have any chance of success in the war, they needed to start working on Soviet style trains before the war and have a large fleet ready so the Ostheer could be adequately supplied by rail from the start of the invasion.
Easier to add larger water and coal tenders to the extant locomotives while improving the rate of repair of the existing lines. The re-think in civil engineering would go further than just rebuilding the rail system. Since Germany has access to the Soviet Union pre-war, at least to some degree, they would already know--or could know--about many of the things they'd need for this within the country.
For example, the Germans bring in large saw milling operations to produce ties and lumber locally. They know locations that could provide sand and gravel for construction and railroad ballast and bring in portable sand and gravel manufacturing plants to make it.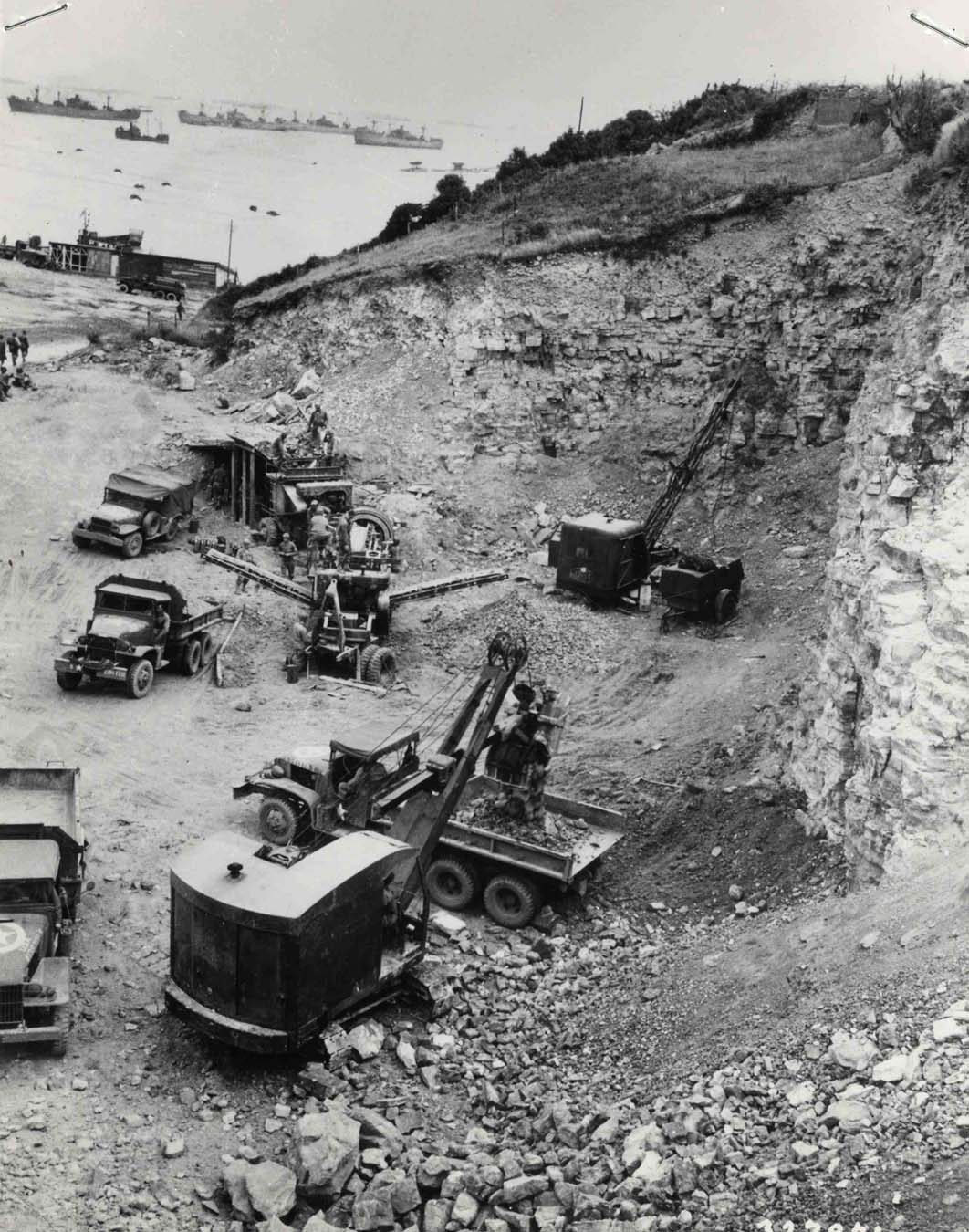 The US Army did it (that's Omaha beach D+3) to provide building materials. You don't need many, say one or two per army going into Russia at a minimum. I can't see why with some foresight the Germans couldn't do it.
Improving existing dirt roads with waste oil and gravel, along with drainage would save huge numbers of vehicles and other equipment when the muddy season arrives.
It isn't the number of trains available that's the problem, it's the infrastructure on which to move them.